Directory of China Mangets manufacturers, China NdFeB Magnets suppliers
Magnetic Grate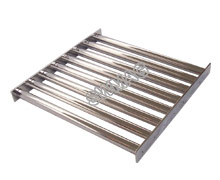 SWMAG Magnetic Grates are used in bins, chutes, drawers and hoppers. They are designed to remove ferrous metal and tramp iron from free-flowing materials such as plastics, foods, cosmetics, grains and minerals.
Standard magnetic grates feature 25mm. (1 inch) diameter round bars filled with either high grade Ceramic or Rare Earth Magnets, arrayed on 50mm. centers and welded into grid configurations. Both round and square shapes are available as shown below:
86machinetools.com
is the brand new China Manufacturers Directory China Trade Portal with its powerful China Manufacturers finely edited for the sole purpose of helping global buyers to perform the much-needed China products sourcing. All products Made In China and China factories are listed for their high quality, innovative design, competitive prices and low cost manufacturing service.If you do have problems doing business in China, please visit Help Desk for assistance.